Frenchie: The Story of the French-Speaking Cajuns of World War II
Jason Theriot interview at the National World War II Museum, Feb. 2020
Jason Theriot presentation at the Congres Mondial Acadien, Louisiana Pavilion, Aug. 16, 2019
WWII Legend Gen. Robert LeBlanc and Jason Theriot on the French-speaking Cajuns of WWII, 2006
Jason Theriot (and kids) interview with Warren Perrin on Pe Te's Cajun Bandstand (KPFT Houston), Aug. 23, 2019
Jason Theriot interview on KANE Radio with host Jeff Boggs of Teche Matters, Aug. 2019
History of Cenac Towing Company
Cenac Towing Company is one of the great American success stories in the history of the marine industry. For three generations, the family-run company became the premier towing and barge transportation carrier for the oil and gas industry. Jason Theriot's forthcoming book captures the legacy of this Louisiana-based towing company and honors the people who built it.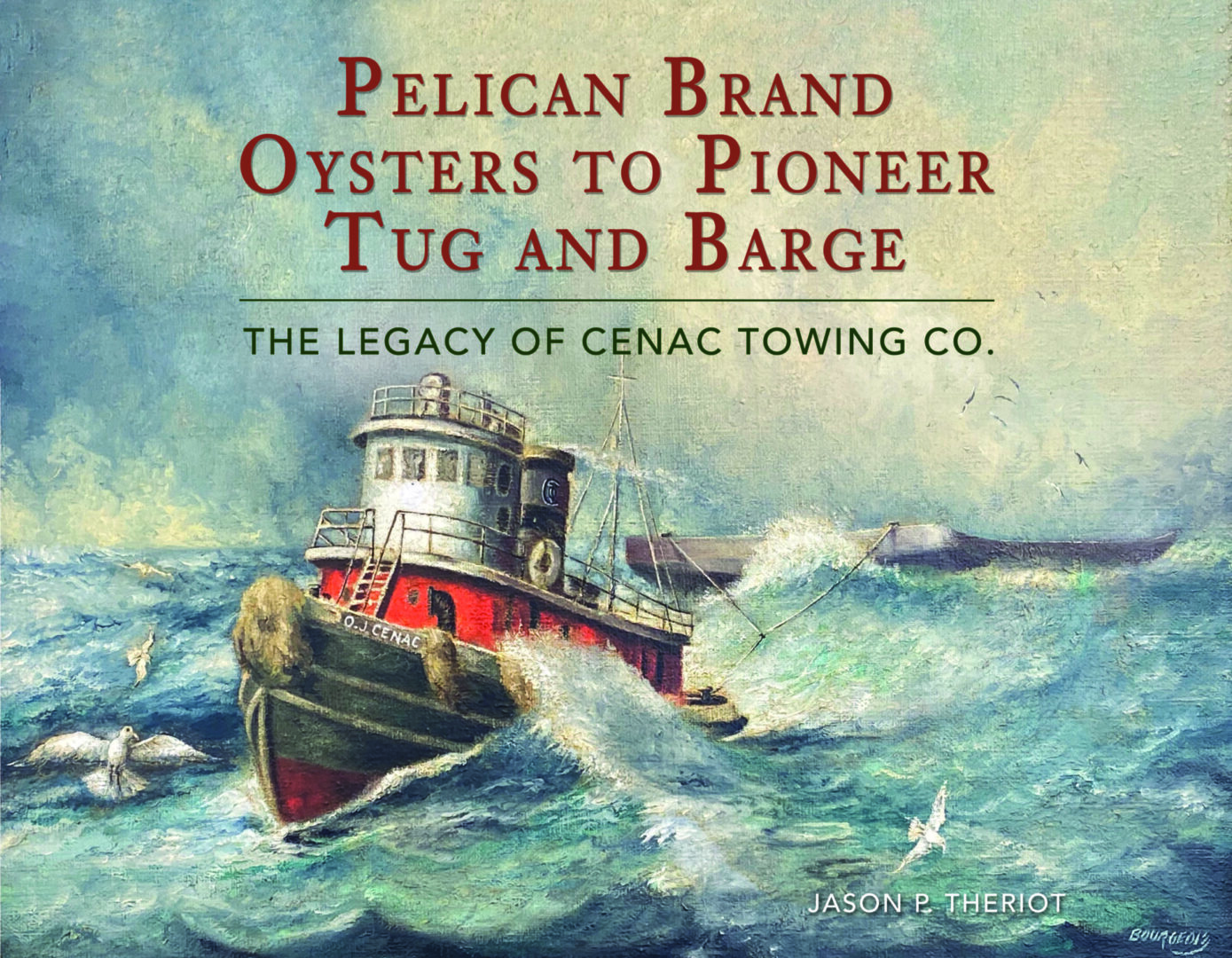 History of Gravois Aluminum Boats and Metal Shark
When it comes to the great boat builders of the Louisiana Gulf Coast, one name stands out: Gravois. For more than half a century, the Gravois family has mastered the art of designing and building commercial and recreational aluminum boats known to last a lifetime. Jason Theriot's latest project will tell the story of how the family-run Gravois Aluminum Boats evolved and became the genesis of Metal Shark—a worldwide leader in the construction of military and law enforcement boats.
Oilfield Energy Center Hall of Fame Interviews
The Oilfield Energy Center (OEC), formerly the Offshore Energy Center, recognizes the pioneering achievements of those men and women who revolutionized the oil and gas industry, particularly in the development of offshore technologies. Since 1998, the OEC has inducted more than 150 of these individuals into its Hall of Fame. For the last several years, Jason Theriot has been conducting oral history interviews with these pioneers. He is currently working with the OEC to digitize its valuable collection of video interviews and to make these stories available to a broader audience. Below are video vignettes from the Offshore Pioneer interviews: Larry Baker, Sr., Alden "Doc" LaBorde, Joe Foster, Paul "Red" Adair,      Griff Lee, Dana Larsen, Bruce Collipp, Don Vardeman, Robert Palmer...and more to come...
Click here for more on the OEC's Hall of Fame. Several of these pioneers were involved in designing, constructing, launching, and erecting some of the largest offshore platforms ever built. The shipyards and fabrication centers in south Louisiana produced the lion's share of these structures and vessels for the offshore industry. Click here to read a historical essay on the history of the "fab yards" and shipyards near Morgan City, LA. The Bayou Teche region is also home to the pioneer shipbuilders of  aluminum crewboats. Norman McCall, considered by many to be THE pioneer of the aluminum crewboat designs, has a legacy in this part of Cajun Country. For an interview with Norman McCall and Jason Theriot, click here.  I also had the pleasure of interviewing the father of the Tension Leg Platform (TLP), Buck Curtis. Click here for my interview with Buck Curtis.
Interview with Offshore Pioneer Larry Baker, Sr., 2017
Interview with Offshore Pioneer Doc Laborde
Interview with Offshore Pioneer Joe Foster
Interview with Offshore Pioneer Paul "Red" Adair, 1998
Interview with Offshore Pioneer Griff Lee, 1998
Interview with Rigs to Reef Founder Dana Larson, 1998
Interview with Offshore Pioneer Bruce Collipp, 1998
Interview with Pioneer of the Spar, Don Vardeman, 2017
Interview with Offshore Pioneer Robert Palmer of Rowan, 2004
Every family has a unique story to tell. Some families and individuals have made distinct contributions to their communities, whether in business, politics, education, philanthropy, or civic organizations. These life stories can been captured and shared with a published memoir. Jason Theriot has worked with families and individuals to organize, write, edit, and produce book-length memoirs. In 2017, he worked with Paul Mattingly, Jr. in his personal account of Levingston Shipbuilding Company (From Orange To Singapore: A Shipyard Builds a Legacy, 2017). He also assisted businessman and former Louisiana State Senator Fred Hoyt with his personal memoir: 
"Jason was instrumental in assisting me in collecting my thoughts, assimilating, and then putting on paper the rough draft.  We then worked on editing and organizing a final draft of my life. I would recommend Jason in a heartbeat!" -Fred Hoyt